Bitan
碧潭 (lit.
Green Lake
) is the most southern part of
Xindian District
(it's also the place where you take a bus to
Wulai
). It's officially called
Bitan Scenic Area
. It's a small area near the Xindian river, that turned into a lake because of a dam and is a very popular getaway for people in Taipei and beyond. What's so special about it? Well, maybe the nice view of the lake-like river which is full of couples riding pedal boats. People stroll along the river banks or cross to the other side on the famous suspension bridge. Many locals see this area as romantic, if you visit, you will see many couples walking hand in hand and spending some quality time together.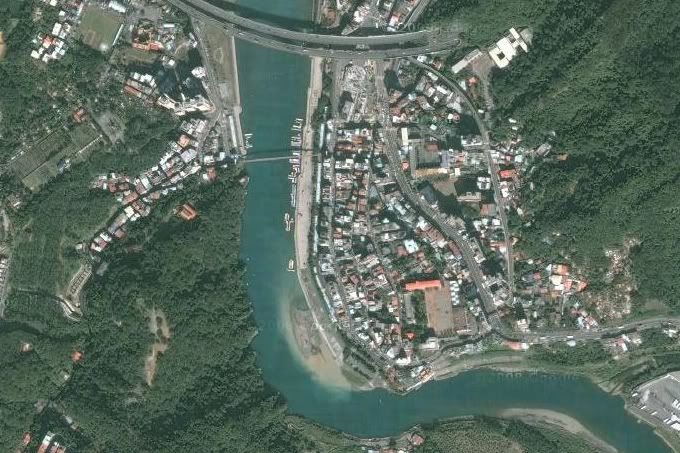 A view on Bitan from above (source: Google Maps).
My girlfriend made herself pretty as well and we decided to go for a walk around Bitan. That's what we saw on that day (May 2010):
The first thing you see is a big highway bridge over the river.
The Beautiful Hotel and a lovely temple on the other side of the river bank.
Lots of greeneries in front and the suspension bridge afar.
The suspension bridge is impressive!
The recreational area. People renting boats or riding bikes.
This photo should give you a good idea of Bitan.
The suspension bridge from below.
Cute paddle boats, see the red swan? I didn't wanna ride, although my girl wanted.
On the left side are restaurants. The food is overpriced, so we skipped them.
The river Xindian in Bitan
.
My dear girl, my lovely guide. She looked gorgeous that day.
It was really a nice day. I liked the area a lot, but in my opinion, if you you don't rent a boat it's probably less fun. Food is more expensive than on some other parts of Taipei, but that's ok, it's a tourist spot. You can reach the area by going out at Xindian MRT Station, it's the last station of the green line, so you can't miss it.