Zhongxiao East Road (忠孝東路), sometimes as Chunghsiao East Road, is the eastern part Taipei's main boulevard Zhongxiao Road (忠孝路), that basically connects two of Taipei's centers: the Zhongzheng district (中正區) with the Xinyi district (信義區), the first being the old center with lots of government buildings, while the second one is the new modern center, where Taipei 101 is located as well. The characters "忠孝" mean something like "devoted filial obedience". Another district, where the Zhongxiao East Road goes through, is called Daan (大安區).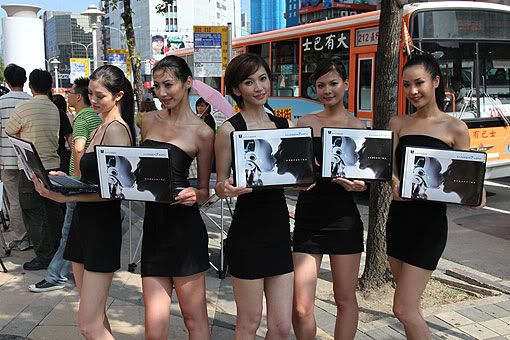 Zhongxiao East Road
is Taipei's main traffic artery, but it's also the place to be for fashionable people. There are shops, exquisite
restaurants
, shopping malls like SOGO, department stores, fitness studios, beauty salons, karaoke bars, clubs, pubs and who knows what else. You have everything there. Even the infamous
Dr. Nice
!
If you want to see Taiwanese people with fashion sense, come to 忠孝東路! You'll see beautiful promoters (like on the photo above) near shopping malls, you'll see muscular local and foreign guys leaving fitness centers, men in suits or young guys with individual styles, women in really high heels and miniskirts, that are so short, you'd not be sure, whether it's a skirt or underwear. Seriously, the hottest people in Taipei (and Taiwan) are found around the pedestrian areas of Zhongxiao East Road. Some men and women really look like models here, it's unbelievable how hot some are. Even older people dress up, when they go to this part of Taipei City. So if you want to observe Taiwan's urban fashion styles, come here. You can also go to Ximending, but the crowds there are younger and they styles are not always so fashionable. But who am I to talk, hehe. Anyway, here are some photos of Zhongxiao East Road. I've taken them a while ago in the evening, while walking from Zhongxiao Fuxing MRT station to Zhongxiao Dunhua MRT station.
太平洋 SOGO
department store near Fuxing station. It's full of branded goods.
Traffic jam on the Zhongxiao East road in the evening.
Another
太平洋 SOGO
on the other side of the road.
The Swiss watch brand OMEGA owns the whole building. There are many shops with very expensive watches such as Rolex, Tudor, Omega, TAG Heuer and Tissot.
People here drive very expensive, usually German, cars like Mercedes and BMW.
A woman making a U-turn with her BMW 7 Series.
A common sight: A young couple strolling down the street...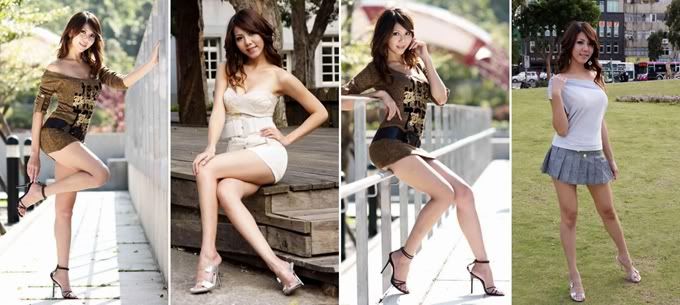 Girls like this one are a common sight at Zhongxiao East Road and you will see them dressing up like her as well. The photos were taken near
Zhongxiao Xinsheng station
, you can see more of them
here
. So now when you come to Taipei, you know where to go. I hope I could help you.
▷ BLOG NAVIGATION:

Taiwan>> Taipei Travel Page>> Daan District>> Zhongxiao East Road